Chevrolet Monte Carlo SS
The Fourth Generation Monte Carlo SS was built by Chevrolet from late 1983 to 1988. The main reason Chevrolet built this car was to have a sleeker Monte Carlo in NASCAR. It had an improved air dam that let a lot more air in for cooling and the front end was a lot more aerodynamic. In a 1984 sales ad Chevrolet even put a figure on the amount of drag the car had in the wind tunnel. Let's just say this, car helped Chevrolet's success in NASCAR tremendously. Another innovation on the Monte Carlo came in 1986 when Chevrolet produced the AeroCoupe Monte Carlo SS. It had an extended glass back that greatly improved air flow, especially for NASCAR's superspeedways. Chevrolet only produced the AeroCoupe for the 1986 and 1987 model years.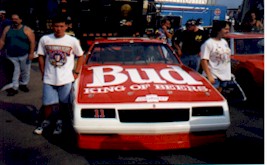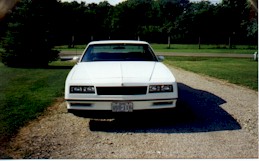 This is a pic of me at the Pepsi 200 and 400 race This is a front view of my car. Look at how similar
weekend at Michigan International Speedway. This it is to the actual race car.
was Darrel Waltrip's Monte Carlo that was raced.
The Monte Carlo SS production car came equipped with a 5.0L (305 C.I.) V-8 producing 180 horsepower every year except for 1983. The 1983 models were a late year model that also had a 5.0L but produced 165-175 horsepower. (I have heard both figures, so believe whichever one you want to) It had a 795 CFM 4bbl carburetor and an aluminum intake manifold. It also had bigger valves and a higher lift camshaft. The 1983-84 models had a Turbo-Hydramatic 350 automatic transmission, while 3 1984 models and 1985-1988 models had a Turbo-Hydramatic 200R4 overdrive transmission. It also had a high flow exhaust system with twin mufflers and tailpipes.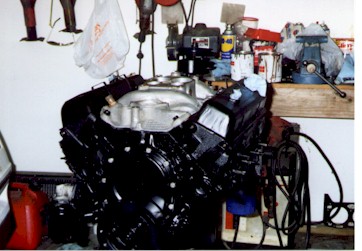 This is a shot of the 5.0L H.O. V-8 out of my car. This was taken shortly after I got finished rebuilding it and painting it.
The Monte Carlo SS also had a different suspension system. It came with Chevrolet's sport suspension. The interior came with an improved instrument panel with important gauges and also a sport steering wheel. Bucket seats were an option.